Local Cable Advertisers Rushed Into CFP Championship Game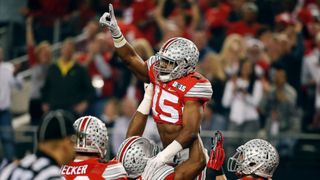 The rise in local cable advertising demand we identified over the past two college bowl seasons was merely a prelude to the dramatic figures that Viamedia tallied for Monday's 2015 College Football Playoff National Championship Game between the Buckeyes of Ohio State and the Oregon Ducks.
Despite four turnovers that kept the game close for a while, the Ohio State decisively defeated Oregon 42-20 behind the monster rushing effort of Ezekiel Elliott (pictured) who gained nearly 250 yards on 36 carries.
And from what we can tell, local cable advertisers were in a rush to appear right alongside him.
Overall, nearly 500 local cable clients across +130 cable zones in 55 Viamedia Markets aired 2,300 :30 second (equivalized) spots in the 2015 College Football Playoff National Championship Game.
But that's only half the story.
We took a look at local cable advertising demand for this year's Championship Game versus last year's 2014 BCS National Championship Game between #1 Florida State and #2 Auburn. (To keep our comparison on an apples-to-apples basis, we confined our analysis to the 45 Viamedia markets that exhibited advertising in both championship games. Moreover, to account for ESPN's 2015 "megacast" on ESPN2, ESPN U, ESPN Classic and ESPN Deportes, we also excluded 2015 local cable advertising dollars on these sister ESPN networks.)*
Even with all the exclusions, the 2015 Championship Game was one for the record books, with advertising revenues rising 74% over last year's game! That increase is comprised of three components:
36% rise in the number of 30-second (equivalized) units;
28% rise in unit pricing;
10% rise due to the multiplicative effect of units sold and pricing.
Automotive advertising has always been a staple of college football and the 2015 Championship Game was no exception. Indeed, if anything, the local cable automotive category (which includes both national manufacturers and local dealerships) was even more pronounced this year. Overall, 45% of total advertising in the 2015 Championship Game was automotive (versus 39% last year). After automotive, the next three highest categories were Financial Services (9.6%), Retail/Department Stores (6.6%) and Restaurants – Full & Quick Service (6.1%). In other words, nearly 7 out of every 10 dollars spent by local cable advertisers were from these four categories.
Last month we speculated that – in the hearts and minds of many college football fans – no single, national championship game would settle once and for all the perennial debate as to which college football team is truly number one. But there's no doubt that the premiering of the 2015 College Football Playoff National Championship Game has won over local cable advertisers like never before.
*Source: Viamedia analysis of B.I.G. internal database ("Sports & High Profile Tracker") across the 45 markets that exhibited local cable advertising on ESPN only for the 1/6/2014 BCS National Championship Game (between Florida State & Auburn) and the 1/12/2015 College Football Playoff National Championship (between Ohio State and the University of Oregon).
Mark Lieberman is president and CEO of Viamedia.
The smarter way to stay on top of the multichannel video marketplace. Sign up below.