Kids' Content Must Interact With the 'iGeneration'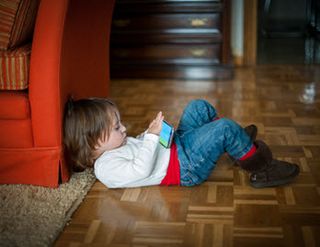 With kids' videos among the most watched on YouTube, it's no surprise many companies have begun tapping into the growing market to create digital content for tiny audiences. Well-known children's entertainment companies such as Cartoon Network, Disney and Nickelodeon have long produced animated and live-action content for children with the same approach — colorful, with relatable characters and storylines. However, we've come a long way since traditional formats, and without a doubt, brands must adjust to fit the demands of kids today.

To live up to the "iGeneration's" expectations, many companies have been introducing digital entertainment with an interactive twist. In its broadest sense, the term interactive entertainment refers to products and services on digital, computer-based systems, which respond to the users' actions as they click and/or point to the activity at hand. Though not strictly interactive entertainment, it's arguable that the precursors to this medium were "Choose Your Own Adventure" books, also known as gamebooks, which debuted in 1979. Gamebooks were written from a second-person perspective with the reader assuming the lead role, making choices to determine the outcome of a story.

For many young parents today, their first exposure to this format might have been the classic Goosebumps books written by R.L Stine. Its "Give Yourself Goosebumps" series allowed readers to choose how a story progressed and ended, allowing them to control the destiny of the protagonist. Nowadays, instead of books, tots can put the "Choose Your Own Adventure" concept to the test by simply tuning in to content on Netflix. The streaming giant is hoping to capture the fickle attention spans of the iGeneration by offering a new, interactive way to consume content. Netflix has even partnered up with Dreamworks to introduce Puss in Book: Trapped in an Epic Tale as well as launched its own original interactive programming, Buddy Thunderstruck: The Maybe Pile.

Across the pond, American interactive content streaming advances have caused a stir, and after noticing a decline in children's TV viewership in the U.K., BBC, the iconic British broadcasting network, announced substantial investment in developing children's content over the next three years. The network believes its efforts will withstand the undeniable influence American streaming companies have on the children's entertainment industry in the U.K. market. The project will focus on reviving content found on its CBeebies and CBBC channels. In addition, its online platform for children will expand, offering live online programs, online video blogs and interactive digital content.

Shifting from traditional TV formats to incorporate interactivity not only helps retain attention, but also boosts creativity and imagination in children. In some instances, it could also go a long way toward developing motor skills. However, like any new concept or technology, there are pros and cons. Depending on the platform, content creators should be mindful that interacting with storylines could have a different affect on children than what was hoped for.

YouTube, for example, could prove that this format thrives on its platform by allowing children to pick and choose what they watch. This type of interactivity is successful due to the power children are able to exert. On the other side of the same coin, when tuning in to Netflix, most people, children included, like to relax and zone out, thus rendering interactivity pointless. Some platforms are hubs for longform serialized content, more suitable for living-room experiences where minimal exertion is the norm. Others are inherently more flexible and therefore more attractive to children in terms of interaction. That's not to say the idea of interactive digital content is half-baked or a failure; rather that some platforms are just intrinsically more prone to ushering in its success.

In any case, though the concept of choosing your own adventure isn't exactly new, its shift to digital platforms is. While it's still too early to tell which players will come out on top, it will certainly be interesting to keep an eye on the space and see if audiences respond favorably.

Bin Jeong is vice president of SmartStudy, a developer of mobile apps for children.
The smarter way to stay on top of the multichannel video marketplace. Sign up below.