Comcast Customer-Service Call: Breaking Up Is Hard to Do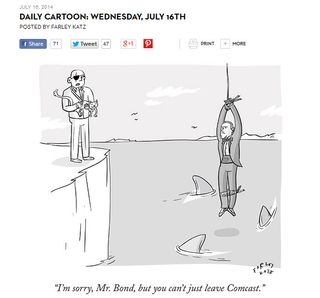 Breaking up proved hard to do for technology journalist Ryan Block when he and his wife, writer Veronica Belmont, tried to disconnect their Comcast service.
And Block's bad break-up is proving to be even harder for Comcast's customer relations at a time when the No. 1 MSO is about to take over the No. 2 MSO, presumably merging their customer retention policies and practices. It even attracted the attention of The New Yorker; the magazine's July 16 Cartoon of the Day by Farley Katz depicted an evil villain dangling his nemesis above a pool of swimming sharks with the caption, "I'm sorry, Mr. Bond, but you can't just leave Comcast."
Block, who works for AOL and has a certified Twitter account, reached out to his 82,000 Twitter followers on Monday (July 14) after a Comcast Customer Retention representative aggressively tried to dissuade first Belmont, then Block, from canceling their service to switch to local San Francisco Bay Area provider Astound.
"Generally good experiences with Comcast... until we canceled," Block tweeted. "Rep got straight up belligerent. I was able to record some, should I post it?"
Block subsequently tweeted a link to an 8-minute audio recording that he began making about 10 minutes into the call, after his wife, "visibly upset" by her attempt to cancel, handed him the phone, Block wrote in a post on SoundCloud, an audio hosting site.
In the call, the rep consistently talks over Block, repeatedly asking why the couple wants to cancel their service, implying he cannot process the disconnect request without an answer.
When Block finally concedes to answer the necessary questions (with different versions of "We decline to disclose that"), the rep still comes back at him with, "I'm just trying to figure out what it is about Comcast service that you're not liking …"
"This phone call is actually a really amazing example of why I don't want to stay with Comcast," Block replied.
The rep then said, "I'm just trying to help you." Block responded that he could help by disconnecting his service, and the rep said, "But how is that helping you?"
The call continued similarly for another six minutes, with Block requesting the disconnection and the rep challenging him. "Don't you want [a service] that works?" the rep said. "No, I guess I don't want something that works," Block replied, in a resigned tone of voice.
The Retention rep finally began to back down when Block, responding to the rep's statement "I'm trying to help our company be better; that's my job," said, "I can guarantee you right now, you're doing an incredibly good job of helping your company be worse."
On Tuesday (July 15), Comcast, noted as one of the first customer-service organizations to leverage Twitter as a communications tool, replied: "@Ryan we are sorry & embarrassed by what happened. We're determined to be better. We clearly have more work to do." The tweet included a link to an official statement on Comcast's corporate website in which the company said:
"We are very embarrassed by the way our employee spoke with Mr. Block and Ms. Belmont and are contacting them to personally apologize. The way in which our representative communicated with them is unacceptable and not consistent with how we train our customer service representatives. We are investigating this situation and will take quick action. While the overwhelming majority of our employees work very hard to do the right thing every day, we are using this very unfortunate experience to reinforce how important it is to always treat our customers with the utmost respect."
But the damage control was too little too late in the Twittersphere, where the audio recording had gone viral Monday as major news organizations, consumers and industry watchers retweeted the recording with commentary like "Just in case you felt like punching something today!" (KlausD, @klaustracks) and "Customer 'diss'-service" (Susan Norvell, @SedonaRockss).
By today (July 16) the story was trending with a number of hashtags, including #comcastdoesntcare and the inevitable #comcastfail.
Summing up an industry perspective, longtime tech journalist Harry McCracken (@harrymccracken) posted on July 14: "The good news is that encounters like @ryan's will never happen again once Comcast's buyout of Time Warner leads to greater competition."
While the maddening call and the subsequent reaction spotlighted the current conversation around industry consolidation, it also got attention for its inherent entertainment value. Atlanta-based "Southern Girl" Shari Lane (@LaneShari1), for example, this morning (July 16) tweeted: "I feel like today people are going to be calling #Comcast to cancel their subscription just to see how the cancellation is going to be."
For Block's part, his behavior on the call is a lesson in forbearance. Asked repeatedly by the aggressive CSR why he wanted to give up Comcast's service for Astound's, Block raised his voice only once, in incredulity, to ask, "Is this like a joke? … Are you punking us right now?"
His public reaction was measured as well: Block did not name the rep and redacted his name from the recording; he also urged Comcast not to make the employee a scapegoat for a larger issue, tweeting in reply to Comcast's apology: "@comcast I hope the quick action you take is a thorough evaluation of your culture and policies, and not the termination of the rep."
Leslie Jaye Goff is a New York-based freelance journalist. Follow her on Twitter: @lesliejayegoff.
The smarter way to stay on top of the multichannel video marketplace. Sign up below.