Viacom-CBS: Putting the Band Back Together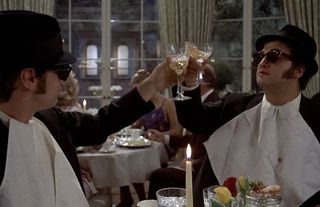 Whenever I hear talk that Viacom and CBS are mulling yet again whether to recombine the company they tore asunder more than a decade ago, I inevitably think back to that 1980 movie The Blues Brothers, where, on a mission from God, John Belushi and Dan Aykroyd as Jake and Elwood Blues tried to put their R&B band back together one last time. And then I think of Blues Brothers 2000.
Sometimes, things are better left as they are.
The Blues Brothers – regardless of your personal taste in film – was a trendsetter, a showcase for massively under-appreciated musical geniuses (it encouraged at least one 17-year-old high schooler to seek out the collected works of Cab Calloway, John Lee Hooker, Ray Charles and anything touched by Steve Cropper), perhaps the most expensive amalgamation of car chase scenes in movie history and the sole reason that 50-year-old men today still consider Ray-Ban sunglasses cool. (No offense, Tom Cruise)
Blues Brothers 2000 was simply a terrible, terrible mistake, an abhorrent attempt to cash in and recapture lightning in a bottle that fell disastrously short.
If Viacom and CBS are seriously thinking about rekindling merger talks, they have to decide which Blues Brothers they want to be -- an imperfect but original take on an old standard, exposing a new audience to a classic entertainment genre; or a slapdash attempt by some out-of-touch old guys for a big payday? You do the math.
Viacom stock has been on a roller coaster ride over the past several weeks as reports battered back and forth that a deal was on and off. The latest – the boards of both companies said they have appointed independent directors to evaluate a merger – probably means that minus a massive change of heart, a deal is on.
Viacom and CBS' largest shareholders – Sumner Redstone and his daughter Shari's -- desire to put the two companies together is no secret. Shari tried to do the same about a year ago while in the midst of an increasingly nasty power struggle with Viacom's then-CEO Philippe Dauman (she won). She changed her mind after naming Bob Bakish, a long-time Viacom executive, as permanent CEO of the company, impressed she said at the time with a resurgence in energy at the company and a desire to see the new CEO's plan to revitalize the once dominating brands play out.
Now the urge to merge has returned, spurred not unsurprisingly by a trio of big media deals in the past 18 months – AT&T's $108.7 billion pending purchase of Time Warner, Discovery Communications' $14.6 billion soon to close buy of Scripps Networks and Disney's $66.1 billion agreement to purchase of certain assets of 21st Century Fox.
The other catalyst for a deal is that the reason for splitting them up in the first place in 2005 – unlocking value, a term that was massively overused in the early part of the century – never turned out the way they thought it would.
Back in 2005, Viacom was supposed to be the big beneficiary of the split – it would no longer be shackled to a low-growth broadcaster (CBS) and could finally take advantage of its youthful demographic and cutting edge content, watching its stock price soar as the ad dollars rolled in alongside ever fattening affiliate fees. CBS would be the utility stock, good for retirees who were more interested in steady, but lower, returns.
More than a decade later, the opposite happened. In a brilliant move, CBS chief Les Moonves embarked on a years-long push to extract cash for retransmission consent. Today, CBS is on track to tally $2.5 billion in retrans revenue by 2020.
Viacom, on the other hand, faltered as SVOD and online video eroded its subscriber base and decimated ad sales. In the meantime, other youth-oriented channels sprang up, increasing competition and a misplaced focus on stock buybacks and financial returns cut into programming budgets, creating a lack of new shows to attract new audiences.
Under Dauman, Viacom stumbled as it chased short-term dollars through SVOD deals for the best programming on its networks – and inadvertently trained younger viewers to not watch commercials and to prefer on-demand to linear. At the same time, CBS grew into the top-rated broadcaster and began to assert its clout. CBS showed just how much power it had when it went dark to about 3 million Time Warner Cable subscribers for the month of August 2014, resulting in the single largest quarterly subscriber defection (306,000 customers) in that cable operator's history. Later, CBS addressed the growing trend in cord cutting by offering its own OTT service – CBS All Access in 2015– while Viacom continued to stumble.
CBS stock also soared – even in the recent market volatility it still trades well above Viacom's price, and the logic behind putting the two back together mostly centers on how pairing CBS with Viacom's channels would give the pay TV programmer a more compelling package in carriage renewals with distributors. In short, there has never been any question about the value CBS would bring to Viacom in a recombination (see above). The sticking point has always been what would it do for CBS?
While that was a harder question to answer a couple of years ago, some believe that now, given the shift toward direct-to-consumer offerings and skinny bundles, adding the Viacom channels would make CBS All Access more compelling. But I'm not so sure.
Just putting them together doesn't make either company better. Forcing pay TV distributors to carry unchanged or unimproved Viacom channels only diminishes the value of the broadcast network. No offense to Viacom, but if you nail a dead rat to the Mona Lisa, it becomes the Mona Lisa with a dead rat nailed to it, not The Last Supper.


And I know what you're thinking -- Viacom could extract higher affiliate fees if it was paired with must-have CBS, which could be used to develop better programming and benefit both content providers. But pay TV distributors are already madder than the owner of Bob's Country Bunker, and forcing them to pay higher prices for programming they hope will get better isn't going to make them any happier.
Bakish, who became CEO about 14 months ago after Dauman was fired, has done an admirable job so far, but there is still much to be done. Ratings are on the upswing and there are some new programs in the pipeline, but they are still far behind their peers. In a conference call with analysts to discuss fiscal Q1 results Feb. 8, he said 2017 was a stabilizing year. Now that the company has more solid footing, he sees growth opportunities mostly by executing on the existing plan.
"We're overwhelmingly focused on organic execution and we see a lot of potential ahead," Bakish said.
So that brings us back to the real reason behind putting the companies back together – because everybody else is doing a deal. Like nature, the media business abhors a vacuum, so why not?
But even that logic doesn't require a Viacom-CBS re-pairing.
Rosenblatt Securities analyst Alan Gould suggested that a better deal may be CBS and Verizon – it would give the telco a leg up on programming its planned OTT service while giving CBS access to piles of cash. Viacom, he said, would be a better target of Discovery or Sony Entertainment.
Barclays media analyst Kannan Venkateshwar also liked the Discovery angle, adding in a note to clients that while a deal will not solve Viacom's deeper problems – subscriber erosion, a declining ad market – it could buy the company some more time to execute its goals.
The analyst wrote that in a Discovery deal, Viacom would bring some added international strength – it has assets like Channel 5 and Telefe in Europe and assets in Latin America and India that would fit well with Discovery. On the studio side, Viacom's Paramount Pictures could fit well with Discovery shareholder John Malone's Lionsgate. And CBS's Showtime premium channel could mesh with another Malone asset – Starz.
Venkateshwar noted that Viacom just began the turnaround process last February, and while CBS won't cure all it's ills – he pointed to continued downward trends in fiscal Q1 – it may give the company some legroom as it looks for a more permanent solution.
"Overall, the quarter likely underlines the need for the company to seek an inorganic path out of its problems," Venkateshwar wrote. "The announced potential combination with CBS is unlikely to solve any of the core performance issues at Viacom but would likely buy the company some time, especially in dealing with distribution challenges. Longer term, however, we believe a combined CBS and Viacom would need to look at further partnerships to gain scale large enough to provide any meaningful clout to survive in the current media ecosystem."
Thank you for signing up to Multichannel News. You will receive a verification email shortly.
There was a problem. Please refresh the page and try again.