Fall's Bounty Extends Past Broadcast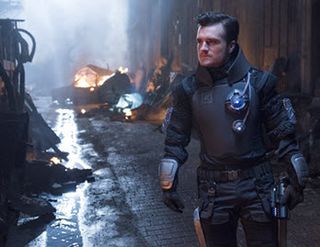 The return of first-run broadcast network series continues to generate the lion's share of headlines during the first few weeks of the fall television season.

But as the autumn leaves begin to fall, and Halloween pumpkins and Thanksgiving turkeys become more prevalent in viewers' homes, so will the premieres of new and returning scripted series from cable networks and streaming services.

Once upon a time, competitors to the broadcast networks refrained from launching their best and strongest shows during the fall for fear of getting lost in the sheer noise of popular over-the-air shows premiering after a long summer hiatus. But in a world of 450-plus scripted series, cable and streaming services don't have the luxury of ignoring any days on the calendar.

So viewers should expect to see a cavalcade of new as well as popular returning shows such as USA Network's Emmy Award-winning series Mr. Robot on Oct. 11 and cable's most-watched series, AMC's The Walking Dead, on Oct. 22. New debuts such as Showtime's drama White Famous, Audience Network's Loudermilk and TBS's The Last O.G. will undoubtedly draw their fair share of water-cooler buzz.

Streaming services such as Netflix and Hulu aren't shying away from competing during the fall season. Netflix will look to scare up audiences with the October launch of Emmy-nominated series Stranger Things while offering a Thanksgiving Day serving of Spike Lee's much-talked-about reboot of his 1986 film She's Gotta Have It. Hulu will beam viewers forward in time Nov. 14 with the Seth Rogen-produced sci-fi comedy Future Man(pictured) while delivering its slice of the Marvel Comics franchise with the Nov. 21 debut of Marvel's Runaways.

The fall is no longer the purview of the broadcast networks, and that only benefits viewers.
Weekly digest of streaming and OTT industry news
Thank you for signing up to Multichannel News. You will receive a verification email shortly.
There was a problem. Please refresh the page and try again.