DirecTV Now Has a Website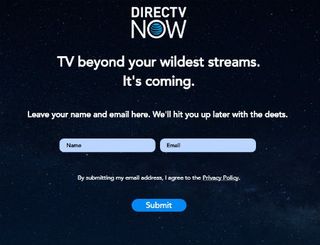 DirecTV Now, the OTT-TV service from AT&T, hasn't set a precise launch date (it's debuting sometime in November), but it has erected a Web site where consumers can plug in their information to stay apprised of the product's status. 
"Leave your name and email here. We'll hit you up later with the deets," a message on the still-sparse site, explains.
Once visitors input their information, this message appears: "Congrats, you're on the list. Prepare to stream your little heart out. Keep your eyes peeled for an email with more info when DIRECTV NOW launches."
AT&T president and CEO Randall Stephenson announced today at The Wall Street Journal DLive event that the service will start at $35 per month and feature 100-plus channels, a price that would appear to undercut the pricing for PlayStation Vue's trio of multichannel OTT-TV tiers, though AT&T has yet to announce which channels will grace the DirecTV Now Lineup (Viacom, NBCU,  Discovery Communications, Scripps Networks, A+E Networks and Turner are among the programmers that have inked distribution deals for the new DirecTV Now service).
RELATED: DirecTV Now to Cost $35 Per Month
Shalini Ramachandran, reporter with The Wall Street Journal, made note of the language the site uses as the new service looks to connect with younger audiences:
"We'll hit you up later with the deets," says new DirecTV Now website (h/t @tgryta), speaking in cool millennialese https://t.co/3pAG144hDx
— Shalini Ramachandran (@shalini) October 25, 2016
And color Public Knowledge's John Bergmayer unimpressed:
— John Bergmayer (@bergmayer) October 25, 2016
The smarter way to stay on top of the multichannel video marketplace. Sign up below.
Thank you for signing up to Multichannel News. You will receive a verification email shortly.
There was a problem. Please refresh the page and try again.