Analyst: Still Little Chance for CBS-Viacom Merger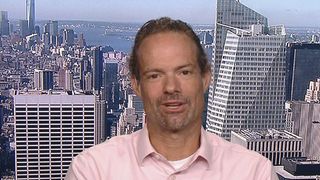 Sanford Bernstein media analyst Todd Juenger weighed in on the ongoing soap opera surrounding CBS- and its largest shareholder National Amusements Inc., adding in a note to clients that no matter what comes out of the broadcaster's previously scheduled broad of directors meeting later today, there is little chance that a CBS-Viacom merger will ever see daylight.
Investors were apparently still nervous – CBS stock was down nearly 5% ($2.47 each) to $51.36 per share in afternoon trading Thursday (May 17), while Viacom shares dipped 3 cents each (0.1%) to $28.23 each.
CBS and its largest shareholder National Amusements, have been at each other's throats since Monday, when the broadcaster filed a suit to try to block NAI from interfering in its Thursday board meeting. At the top of the agenda of that meeting was a proposal to issue a special dividend to shareholders which would dilute NAI's voting control of CBS from 80% to 17%. CBS had asked the court to issue a temporary restraining order against NAI to keep it from interfering with the special meeting.
While a Delaware court denied CBS's request for that TRO, Juenger wrote that it really doesn't matter in the context of a CBS-Viacom merger, the catalyst for all of the recent consternation. The CBS board already unanimously rejected a Viacom merger.
Juenger believes that NAI's actions yesterday to change CBS's corporate bylaws to require a super-majority vote to approve board actions concerning dividends or changes to its bylaws, basically takes the dilution effort off the table. CBS, though, said in its statement that it still plans to go through with the special dividend vote today anyway.
But whether CBS is successful or not is basically moot. According to Juenger, NAI can't force CBS to merge with Viacom and the broadcaster has made it pretty clear that it doesn't want a combination.
"The unanimous vote of the CBS Special Committee stands, and we don't see any plausible way it could be reversed," Juenger wrote. "If you don't believe us, then how about taking NAI's own words: NAI had, and has, no intention of forcing a merger, whether by removing and replacing the members of the Special Committee or otherwise. It would be impossible, we think, for NAI to now go and do exactly what they told the court they wouldn't do. Especially given the intense level of scrutiny that NAI will now be under (which may have been CBS's goal all along)."
Juenger adds that there are also reams of Delaware case law that upholds the independence of special committees and prevents them from being coerced by controlling shareholders.
"We cannot think of a more textbook case of coercion than a situation in which a controlling shareholder replaces a board that just rejected a transaction and asks the new board to approve the same transaction," Juenger wrote.
What might change is the relationship between NAI and CBS management. And while it won't be easy to work together given the contentious nature of the recent lawsuits, Juenger hoped that a middle ground could be reached.
"Given NAI's promise, and fiduciary duty, to act in the best interest of CBS shareholders, we expect they should make every effort to find a way to continue working together," Juenger wrote. "In the event they cannot (by either party's decision), to the extent that leads to the conclusion that the best future for the CBS Corporation, and its shareholders, is likely to be acquired/combined with a larger platform company, then the exit of CBS management wouldn't matter, anyway."
The smarter way to stay on top of the multichannel video marketplace. Sign up below.