6 More Trends Driving the Future of TV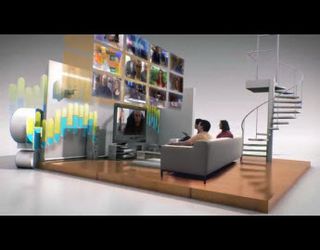 Following up on six trends driving the future of content, here are six technology-enabled developments that are driving how television content is distributed and consumed.
1. More (and Smarter) Devices
Both mobile and stationary devices will continue to populate the home, business and travel lives of Americans. That's because we like it! The average U.S. TV household has gone from one TV set to several, and from just TVs to other devices, and from just one mobile device to several. That's a lot of screens, especially considering each home on average has just a bit more than two folks living in it. Most of these devices will also acquire more and more storage and computing power. Read more.
2. Data Use Grows
Data will come from many platforms, e.g., social media's Twitter tweets will factor into comScore's and Nielsen's measurements of "total viewing audiences and their preferences." Data will not just determine if people like programming, but as importantly, it will more and more determine what people will like, and thus what content gets made. This will include the advertisements consumers watch, which will be more and more targeted, based upon the likes and dislikes of that viewer, and that viewer only. Read more.
3. Internet of Things
A business colleague in Denver, Colo., tells of the audio speakers in his living room being run off of an Internet connection. This is but one early example of how more and more devices – including those in the video and TV worlds – will be connected to the Internet for the purposes of more viewing enjoyment and sophistication. Of course, this also ties in with the trend above, that of data use. Unimaginable information sources are just being developed today, which will completely drive the what, where, how, why and when of TV viewing, in no less than a couple of years. Read more here and here.
4. Distribution Migration
The transition of millions of former pay TV subscribers to IP-enabled devices is the paradigm of this trend. Another great example is that of wireless providers rivaling wireline providers in the delivery and distribution of content to America. And there will be more such transitions, as large, small, and medium-sized content-rights holders and distributors grapple with the best technology to deliver those ones and zeros. But a tiny example of this migration is the challenge presenting itself to cable and telcos by the upstart Alternative Broadband Providers.
5. Enhanced (and Advanced) Digital Media
For years, this side of the industry has also been known as Advanced Media Services or Advanced Digital Media. Examples include DVRs and VOD during the past couple of decades, and most recently Virtual Reality and Augmented Reality capabilities. Applying these two latter viewing options to just video gaming alone,opens up a multibillion-dollar industry subsector. And there will be more and more, as regularly as in the past there have been new TV shows introduced every September. HDTV, 4K, and UHDTV are additional examples on the picture-quality side of the ledger.
6. The Pie Grows
The knee-jerk reaction is to look at OTT/broadband/streaming video services and predict a sharp fall off in traditional distribution modes. But perhaps one of the best examples is that of the Direct Broadcast Satellite (DBS) industry and its influence on cable. Sure, cable lost subscribers, but cable found ways to enhance the most important benchmark, i.e., average revenue per unit (ARPU). Cable also found its way into a couple more technologies, i.e., telephone and Internet/broadband service, and made a huge investment in better infrastructure. Thus, the better measure was to describe the "Video World in a Post-DBS Era" as having increased the options, rather than one ruining the other. So, too, will most of these technologies and developments above, as well as the content trends in Part One, encapsulate the same theme: The Pie Grows. (And what could be better for "The Consumer Choice Culture" that is American TV today — and tomorrow?)
Jimmy Schaeffler is chairman and CSO ofThe Carmel Group, a streaming/broadband, broadcast and pay TV/video consultancy based in Carmel by the Sea, Calif.; he writes about telecommunications, entertainment and media.
The smarter way to stay on top of the multichannel video marketplace. Sign up below.
Jimmy Schaeffler is chairman and CSO of The Carmel Group, a nearly three-decades-old west coast-based telecom and entertainment consultancy founded in 1995.