Why Lifetime Is Kicking It With Women's Soccer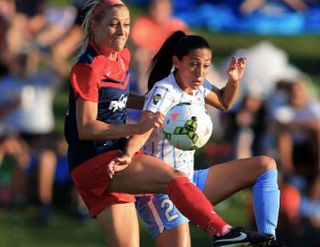 Conventional wisdom has it that women don't watch live sports programming. Just don't tell that to the approximately 47% of women who made up the huge audiences for each of the last two Super Bowls — and not just to watch the commercials.
"Making the assumption that women aren't attracted to sports is one of the stereotype problems we have in this country," A+E Networks CEO Nancy Dubuc told me Thursday (Feb. 2) after a press conference announcing Lifetime's new partnership agreement with the National Women's Soccer League (NWSL).
Lifetime is re-entering the live sports arena 20 years after its first turn at sports, televising live games during the WNBA's inaugural pro-basketball season. It has inked a three-year deal to distribute a live, weekly Saturday afternoon NWSL match.
Unlike the earlier WNBA deal, which effectively ended in 2000 when the league shifted the games to ESPN2 amid sluggish ratings, Dubuc said the broader A+E-NWSL partnership is more aligned with today's Lifetime media brand than the more narrowly defined Lifetime linear channel.
In addition to the live game telecasts, the deal calls for A+E Networks to take an undisclosed equity stake in the five-year-old pro soccer league and to create NWSL Media, a joint venture with the league to control its broadcast and sponsorship rights, including streaming rights and social media.
"Business is anything but traditional these days, and we don't see the Lifetime brand as just a television brand, but we see it as a female media brand that has to represent what she is interested in up and down the spectrum in terms of all kinds of content," Dubuc said.
During the press conference, Dubuc cautioned observers who assumed that Lifetime's current audience — or women viewers in general — would not get a kick out of watching live sports on the reality-skewing, women's life-styles-themed network. Recent history has proven that women will tune into compelling live sports events in a major way.
Female viewership for the 2015 Women's World Cup finals on Fox Sports was up a whopping 57% compared with the 2011 version, according to Nielsen. The World Cup finals in both years featured the U.S. National team — many of whom now play in the NWSL — against Japan.
The July 2015 USA-Japan final drew 23.6 million viewers, then the third most watched English-language soccer match in U.S. history, with women representing an impressive 43% of that audience.
"Sports are great dramatic stories, and if those stories are served up in an entertaining, relatable and passionate way, women crave those authentic stories about aspiration and competition," Dubuc said. "We see a tremendous amount of overlap with our audience. If you're going to be a media brand, not just a linear television brand, you have to make sure you're speaking to all women and all interests."
The smarter way to stay on top of the multichannel video marketplace. Sign up below.
Thank you for signing up to Multichannel News. You will receive a verification email shortly.
There was a problem. Please refresh the page and try again.