Why Cox Is Balking in Dodgertown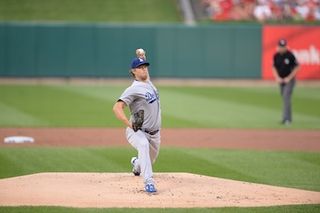 The high cost of sports has been an issue with cable, satellite TV and telco operators for years now, and as Major League Baseball's regular season starts this week, one major regional sports network continues to be out in the lurch: Time Warner Cable-distributed SportsNet LA, home of the Los Angeles Dodgers. While negotiations between the network and distributors in the market are non-existent as of this , Multichannel News senior finance editor Mike Farrell spoke with Cox Communications's point man for programming negotiations, senior vice president of content acquisition Andy Albert, about sports costs and how cable operators can use programming deals to differentiate themselves from the over-the-top threat. An edited transcript follows.
MCN: Major League Baseball's regular season is fast approaching. Where do you stand on your sports deals right now?
Andy Albert: A lot of those deals are long-term deals that are locked up. The one that is not locked up is the Dodgers. Not much has changed in Dodgers Land. The Dodgers asked for too much, Time Warner paid too much and we're finding it really difficult to burden ourselves with the cost of the Dodgers. Right now, what they have talked about for the last year is a very inflexible deal that does burden non-sports fans with the very high cost of the Dodgers. I don't see anything changing there.
MCN: Cox has owned RSNs in the past and has had to come up with a way to price and market them, so you know that it's not easy. Time Warner Cable is taking it on the chin, but at least with this network, they don't own it, they're just managing it for the Dodgers. Is the team the party that is being unrealistic here?
AA: There is no doubt that sports costs are high and getting higher on a regular basis. I think the Dodgers just set a new standard of unreasonableness. They [TWC] may not own it but they certainly crafted the economic relationship between themselves and the Dodgers.
MCN: Is there any hope that if the Time Warner Cable-Comcast deak gets done, there will be a new wave of reasonableness?
AA: [Laughs] I have no idea. I would love to see something break there that would be good for our customers. We definitely know that there are Dodgers fans. We want to do everything we can to serve all of our customers as best as we can. Some are Dodgers fans; many of them are not Dodgers fans.
MCN: Do you think they overestimated the market? When they launched the Lakers network, the Lakers were and are insanely popular in that market. But baseball has always seemed to be a secondary to basketball in L.A.
AA: The Lakers are probably two or three more times more popular than the Dodgers in L.A. And baseball is a long season — 162 games, basketball is 82 and football is only 16. There are a lot of baseball games on television. There are a good number of games on ESPN and some on Fox when they play other teams on the West Coast. Not enough for a real hardcore fan, but there are certainly a smattering of Dodgers games available.
MCN: Are distributors drawing a line in the sand against rising sports costs?
AA: I don't know if there is a line being drawn in the sand. But it just shows you that there is a problem with sports. [Satellite-TV provider] Dish [Network], as far as I know, doesn't carry any New York sports at all. More people have been choosing among sports networks that are affordable for customers. The Astros network is another one, it sat out there for a long time without any distribution before DirecTV bought it.
MCN: Let's step away from the Dodgers for a moment and talk about programming in general. When you go into negotiations, is pricing still the main consideration?
AA: We want to pay the right price. We have expectations now that all of our deals will include the right to stream networks in and out of the home. If you look in the home, we are at about 100 networks that you can stream. And we have rights with a lot of networks where you can go to their websites and apps and if you're a customer, you already have out-of-home access.
MCN: When TV Everywhere first came into vogue, programmers were OK with in-home viewing on multiple devices, but they resisted out-of-home viewing. Now it seems like anything goes. What changed their minds?
AA: A lot of their reluctance for a long time was about ratings. But the ratings are starting to come around now. Look at some of the over the top announcements, networks are trying to figure out where the [audience] is shifting towards, and they're trying to be there if they can. We have all of these rights today for our customers. We have the right to watch a lot of that stuff outside the home on an authenticated basis. And we do that with in the home as a managed service so there is a quality of service you don't get necessarily with a Sony or a Sling or any of those guys.
MCN: The OTT services are starting to emerge — Sling TV is out, Sony is in three cities with its PlayStation Vue and HBO Now is launching this month. Does this put added pressure on you? Are you under pressure to do more sports deals because that's one of the few things left that viewers watch live?
AA: I agree with your statement, but we have a lot of sports. Our sports fans are pretty well covered today.
MCN: With some of the recent OTT deals, it seems as if the programming bundle is starting to loosen. Do you see that happening more, where networks are willing to offer packages that don't necessarily includes all their channels? Does that give you an opportunity to offer skinny video packages?
AA: I'm not sure that within network groups there's a loosening of the bundle today. If you look at what Sling has they have all of Disney's content, they have all of Scripps content, they have all of A&E's content, they have all of AMCs' content. The way that they have managed to do that is by not carrying entire families of content. I'm not so sure that I agree with the concept that the bundle is breaking.
At the same time we know very clearly from our customers that prices are too high and prices are driven by costs, which are imposed on us by the networks. There has to be something that breaks to give us the ability to create lower cost packages for our customers that they want to buy.
MCN: Now you have people watching more and more content on different devices. Is that opening up some of the networks regarding what they offer over those devices?
AA: Today, with what we have, you can watch to a large extent almost anything you want to watch and where you want to watch it. It comes back to the whole purpose for skinny packages. A skinny package is something that is priced appropriately for customers that want to spend less but still get a high value. That's what we need to work on. Whether the delivery mechanism is over the Internet or over your cable plant, we have to figure out a way as an industry to get lower cost packaging because that's what customers are asking for. And if we can't give it to them, they will find another way to do it.
MCN: Do you ever see a future where a la carte or near a la carte is feasible?
AA: I don't think that full a la carte is what anybody wants necessarily or that it's particularly feasible. But there is something in between the packaging we have today and a la carte that probably makes sense for a certain segment of our customers. There are many customers, and it's a large majority, we spend a lot of time talking about over the top and skinny packages, but for the vast majority of our customers today, they are perfectly happy with the amount of content they get. They may not love the price, but it's still a good value. What we're really talking about with over the top and skinny packages, is going after a segment and serving a segment that is maybe not served the way they want to be served.
The smarter way to stay on top of the multichannel video marketplace. Sign up below.