What A&E Wants You to Know About 'Live PD'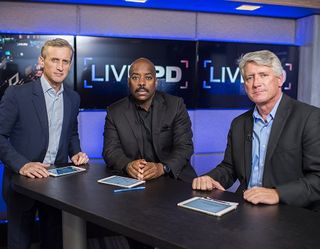 A&E  on Oct. 28 will shine a light on the work of police officers in a new and provocative series that is sure to raise a few eyebrows.
The eight-episode Live PD series will provide live and unfiltered coverage of police officers over a two-hour period as they patrol several of the country's urban and rural cities. The series comes as the country continues its debate over policing tactics in light of several recent and controversial shootings of unarmed black men.
Series host Dan Abrams and Dallas Police Detectives Rich Emberlin and Kevin Jackson will guide viewers as the show simultaneously follows live the actions of police officers in six different cites via dash cams and handheld cameras. While there will be a "slight" delay in the live telecast, A&E says viewers will be able to take an inside look at each live incident that occurs during the telecast.
 I recently spoke to A&E executive vice president and head of programming Elaine Frontain Bryant about what the network hopes to accomplish with the series.
Here's what Bryant and A&E want you to know about Live PD.
Live PD is reality programming in its truest form: "This is bold and innovative. We have six police departments from six different and diverse cities around the country – diverse in region and demographics -- coming together to do a live show. We're embedded with the police departments to give a view of what's going on in America regarding police and crime. The series is trying to help us understand what's really going on out there. There's a conversation about ethics and policing and we're kind of opening our world to it."
It seeks to provide a neutral look at policing: "We're aware of the potential for controversy. The reason that we're doing it is so people can see for themselves.  I think anything can happen. We can see a police officer's reactions to a situation and that reaction can be totally perfect, or, in that moment, maybe make a mistake. We're there really just shining an omniscient light as they patrol our country."
A&E hopes the show prompts further dialogue on the issue: "A&E is one of the only networks that really want to join a conversation or start a conversation about what's happening in America. This shows a play-by-play of what's going on in America and what's being discussed everyday on the news. We're doing the series in an NFL Red Zone style – we have a studio with six different cities, and we will go in where the action is happening. What I want to accomplish is to join the conversation by saying 'OK America, this is what everyone is talking about … let's see six typical American cities on a Friday night.'"
The smarter way to stay on top of the multichannel video marketplace. Sign up below.
Thank you for signing up to Multichannel News. You will receive a verification email shortly.
There was a problem. Please refresh the page and try again.