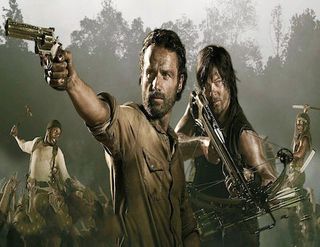 With just two more days left before its carriage agreement with AMC Networks expires, potentially depriving its nearly 4 million members of their Sunday night zombie fix, the National Cable Television Cooperative is faced with a dilemma: Does it agree to a big rate increase and the addition of five new channels its membership doesn't want, or does it do without one of cable's most popular networks, including its No. 1 rated show, The Walking Dead.
It's not an easy decision and not one that NCTC president and CEO Rich Fickle takes lightly.
But it also isn't just a simple case of economics either.
Cable operators, large and small, have complained for years over the high cost of programming and the double and triple digit rate increases demanded by some networks come renewal time. In that respect, this dispute is no different from countless others over the years – The NCTC claims that AMC's rate demands represent a 200% to 400% increase for some of its members. Even the addition of five ore networks from the AMC fold isn't particularly new – operators have complained about network bundling for years, and AMC's former parent, Cablevision Systems, even sued Viacom over the practice last year. (That suit was settled in October). But this time in addition to the usual rhetoric that their subscribers don't want or watch those channels – WeTV, IFC, Sundance, BBC America and BBC World News – capacity, or the lack thereof, has emerged as the primary reason for resistance.
MCTV president Bob Gessner said putting those five channels on expanded basic could force some cable operators to make a difficult decision – expand their broadband offering or beef up video.
Gessner, whose MCTV has about 47,000 customers in Ohio, said that adding five more networks to its most popular tier could consume two or three QAM streams, or the equivalent of 80 –to-100 Mbps of bandwidth that could otherwise be used for broadband.
"It doesn't matter where you put them, if you have to add five HD networks, that could knock out 12 MHz out of a 750 MHz plant," Gessner said. "If it's just for WeTV and BBC News, it's not worth the trade-off."
Fickle agreed, adding that unlike their larger counterparts, small operators face real bandwidth constraints.
"It's not like we're dealing with major markets here," Fickle said. "Most are not fully digital."
Fickle said NCTC and AMC are still in discussions and have made some progress, "but not enough that we're confident the gap will be closed." He added that the goal is still to have a deal in place by the Dec. 31 deadline.
AMC has said that it hasn't had a new deal with NCTC in seven or eight years and is merely trying to get the co-op in line with what other distributors are paying. They note that the network has invested a considerable amount in original programming and is merely asking for fair market value for its content.
You can't really argue with that. AMC has devoted a lot of resources to high-quality original programming – shows like Mad Men, Breaking Bad and The Walking Dead are the first invoked when people talk about the new Golden Age of Television. Fickle doesn't want AMC to stop innovating, and he believes the network is more valuable than it was seven or eight years ago. He added that most small operators feel the same way and would have no problem paying more for AMC.
"If we were just talking about AMC and paying more, we'd be done," Fickle said.
But they're not just talking about AMC. The other networks also have their share of high quality shows – Portlandia on IFC, Doctor Who and Orphan Black on BBC America. So where does a distributor draw the line? It helps if they have an idea of the markets they serve, and for small cable operators, their service territories are small enough and vocal enough that when Gessner says "my customers don't want Portlandia, they don't want the Independent Film Channel, so why am I going to force it on them," he speaks from experience.
But that isn't particularly new either. Back in 2012, Dish Network chairman and CEO Charlie Ergen dropped AMC, IFC, WeTV and Sundance for four months, claiming his customers didn't watch "zombies in New York City," referring to The Walking Dead. That dispute, which AMC said was more motivated by a lawsuit filed against Dish by a former AMC satellite unit (Voom), was settled in October of that year with Dish paying the increases and adding AMC's other channels, including an additional network, Fuse, to its lineup. According to some analysts at the time, Dish likely paid above-market step-up increases with heightened annual escalators.
That could very well happen again – after a period of huffing and puffing and maybe a brief blackout period, the AMC Networks will return and the operators will pay the freight.
But what the NCTC membership is complaining about has been coming for a long time – after decades of double-digit rate increases, eventually you reach a point where the consumer says, "enough."
"This can't go on, we're at the breaking point," Fickle said. "Ultimately you hit a wall."
While that tune has been sung countless times before, the big difference today is that consumers have choices. They can buy broadcast basic and broadband from a cable operator and supplement their viewing with subscriptions to services like Netflix, Hulu, Amazon Prime and others and still come out paying less.
It's happening in the heartland too, not just in the big cities.
Gessner said about 5% of his customer base is broadcast basic but estimated that at some other small operators it represents as much as 15% of video customers.
"Every month we lose expanded basic customers and gain basic-only customers," Gessner said.
A lot of that has to do with the economic situation outside of big metro areas. On average, expanded basic cost about $85 per month, Gessner said. But broadcast basic, which has grown to 40 or 50 channels via digital multicast, costs around $30 per month.
"A budget-conscious consumer who doesn't watch sports and primarily watches broadcast television, you can live a pretty good life on broadcast-only and save a house payment every year," Gessner said. "You just saved $600. In New York City, that parks your car for a month. But here, it pays your rent for a month. That's a problem that most people don't understand."
Alaskan cable operator GCI took it a step further on Dec. 28, announcing that it will drop the AMC networks on Jan. 1, encouraging customers to use the VUDU app on its TiVo boxes to access The Walking Dead and other AMC shows, even offering them a $50 Visa gift card to help foot the bill.
That is a move that even a year ago would be unheard of from a cable operator, but GCI seems to feel it's worth the risk.
"Consumers today can access their favorite shows and content in more ways than ever before," GCI said in a statement. "Providing our TiVo customers with a $50 Visa card is a way to encourage them to find new ways to watch their favorite programs and to discover new content."
About 100 NCTC members have already said they plan to drop AMC and its other networks if they can't reach an amicable deal by the end of the year, representing more than 1 million cable subscribers.
In the end, this may all be moot — NCTC could pay close to or exactly what AMC wants them to pay adding networks to expanded basic or a tier. But we may find out that this dispute is only the tip of the iceberg — small operators tend to be the early indicators for broader industry issues. And that's when we may just find out what a breaking point is.
Thank you for signing up to Multichannel News. You will receive a verification email shortly.
There was a problem. Please refresh the page and try again.