VMAs Caught in Measurement Crossfire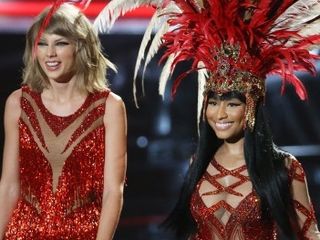 MTV's Aug. 30 Video Music Awards hit a sour note, according to most industry observers, posting a double-digit ratings decline from its 2014 version.
The show, once among cable's biggest audience draws of the summer, averaged only 5 million viewers in its live run on MTV, down from the 8.2 million viewers the extravaganza generated last year.
That's a major drop even in an environment where most cable shows and networks are losing audiences.
But the Miley Cyrus-hosted show struck a positive chord with the network's target millennial audience on social media, where those viewers talk about the content they most want to see.
Performances, speeches and word wars by the likes of Nicki Minaj, Taylor Swift, The Weeknd and Justin Bieber – not to mention Kanye West's 2020 presidential bid proclamation – helped drive a record 21.3 million tweets around the show, according to Nielsen's Twitter TV ratings.
Clips from the VMAs drew more than 100 million loops on millennial-dominated online video-sharing service Vine and generated 64 million interactions on Instagram, where young people gravitate to discuss and view things that most interest them.
Unfortunately for MTV, the current content advertising distribution model – including accurate multiplatform audience measurements – have not caught up to the continued migration of viewers accessing and watching content on non-traditional platforms; otherwise, we might be viewing the performance of the Video Music Awards in a different light.
Some observers believe the MTV VMAs are no longer relevant given the show's declining ratings. But it just might be that traditional TV is no longer relevant to the VMAs or its audience.
The smarter way to stay on top of the multichannel video marketplace. Sign up below.
Thank you for signing up to Multichannel News. You will receive a verification email shortly.
There was a problem. Please refresh the page and try again.