Tearful Good-byes, Welcome Hellos For Some Cable Shows In 2015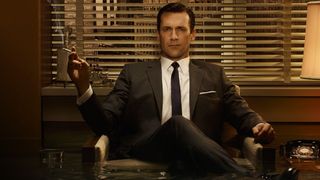 As we welcome in all the promise of the New Year, some viewers are preparing to bid farewell to their favorite series and stars.
A number of marquee shows have already announced they will end their successful runs over the next 12 months. Arguably the most celebrated series departing, after a stellar seven-season run, is AMC's Mad Men. The Matthew Weiner-produced drama chronicling a 1960s advertising agency has received nearly universal critical acclaim for its storytelling, historical authenticity and style — not to mention terrific acting led by series star John Hamm.
The series has also brought home a ton of hardware — 15 Emmy awards and four Golden Globe Awards since its launch in 2007. The final seven episodes of the series will air this spring.
Other shows also saying goodbye in 2015 include TBS' Courteney Cox starrer Cougar Town, which debuts its sixth and final season Tuesday (Jan. 5); Showtime's Nurse Jackie — led by multi Emmy winner Eddie Falco's portrayal of conflicted emergency room nurse Jackie Peyton — which ends its seventh season later this year; and FX's critically-acclaimed drama Justified, starring Timothy Olyphant as no-nonsense lawman Raylan Givens. That series will begin its sixth and final season on Jan. 20.
Certainly the loss of these and other quality scripted shows will somewhat diminish what many observers believe is a "golden age" of scripted programming on cable television. Fortunately for the industry and viewers, a number of new series are coming that hope to reach the same lofty heights as those shows leaving the air.
E! and Pivot will both jump into the scripted ring in 2015 with dramas The Royals and Fortitude, respectively; newly branded Pop will roll out comedy Schitt's Creek; A&E will tap the supernatural genre with Returned; Netflix will ride the superhero wave with Marvel's Daredevil; and AMC will debut the much anticipated Breaking Bad prequel Better Call Saul in the new year, just to name a few.
Some of these shows, along with a slew of other new and returning scripted, reality and limited series, will be showcased over the next few weeks during the upcoming Television Critics Association Winter Press Tour in Pasadena, Calif.; the cable portion of the tour begins Wednesday (Jan. 7).
While viewers will be sad to see a number of cable series mainstays leave their TV schedules, they should be encouraged to know that more than enough new series are launching to keep them entertained throughout the New Year.
The smarter way to stay on top of the multichannel video marketplace. Sign up below.
Thank you for signing up to Multichannel News. You will receive a verification email shortly.
There was a problem. Please refresh the page and try again.