Showtime PPV Promo Packs Social-Media Punch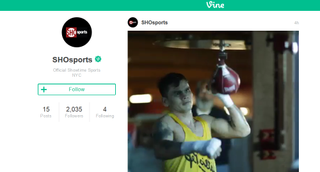 Showtime is taking a jab at social media to promote its upcoming May 3 Floyd Mayweather-Marcos Maidana pay-per-view event.
The network has teamed with welterweight champion Mayweather's promotional company and the cable operators to offer as many as 20 to 25 short-form videos surrounding the fight on each outlet's respective Instagram, Vine and Facebook pages. The videos take full advantage of those burgeoning social media platforms that offer 10 to 15 second clips, letting fans keep up with the fighter's training and appearances leading up to the fight.
"Each group will have its own set of individual content tailored for them that is organic to their own marketing," said Showtime Sports executive vice president and general manager Stephen Espinoza. "Each of the platforms will have their own videos and will be distributing them in their own voice … the fans aren't seeing the same videos that are posted by Showtime, Mayweather or the cable operators."
The social media campaign will be bolstered by a multi-million dollar media campaign that will feature ads on high-profile sports events like the NBA playoffs. "For Mayweather fights in general we cast a wider net …we go after the casual sports fan and the general sports fan that may only watch one or two boxing events a year," he said. "We know for that viewer if they're only going to buy one or two event a year it will be a Mayweather fight."
In addition, In Demand is offering eight classic boxing matches featuring several boxers on the Mayweather-Maidana fight card, including Adrien Broner and Amir Khan.
Espinoza wouldn't predict how many PPV buys the fight will generate, but the network's Sept. 14 Mayweather-Canelo Alvarez PPV event drew 2.2 million buys – the second best performance in PPV event history.
The smarter way to stay on top of the multichannel video marketplace. Sign up below.
Thank you for signing up to Multichannel News. You will receive a verification email shortly.
There was a problem. Please refresh the page and try again.