MayPac To Set PPV Perfomance Standard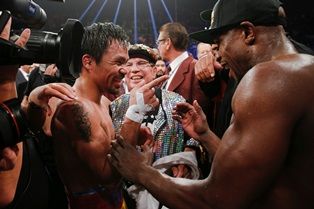 HBO and Showtime tonight (May 9) will simultaneously air a replay of last Saturday's Floyd Mayweather-Manny Pacquiao fight, and while the action in the ring didn't quite live up to expectations, the fight's pay-per-view performance is shaping up to be a knockout for the industry.
Fight co-distributors HBO and Showtime are still saying that it's still too early to project a PPV buy number for the heavily hyped "fight of the century," but satellite, cable and telco distributors are reporting record-breaking numbers that are poised to easily push the fight beyond the industry record 2.5 million buy mark set by the 2007 Mayweather-Oscar De La Hoya fight and the $152 million PPV revenue record pinned down by the 2013 Mayweather-Canelo Alvarez fight.
The fight could approach the rarified air of 3 to 4 million buys and more than $300 million in PPV revenues if early buy numbers are any indication, according to industry observers.
Satellite provider DirecTv alone drew more than 1 million buys for the fight despite facing some challenges with processing a multitiude of same-day fight purchases, DirecTv chairman Mike White said during the company's first quarter earnings call last week.
"There's no doubt that sports, particularly live sports, continues to draw massive audience. We were thrilled with the results of the fight … it was a record for us," he said. "We had some challenges getting everybody through, but we did get everybody through. We were ready to go by the end and we learned a lot out of it, but we just blew the doors off in terms of sales, which was nice because it will help the second quarter."
Cable industry PPV event aggregator In Demand would not reveal specific numbers, but a spokesperson said that, "early estimates indicate that the MayPac event will shatter both the buy and revenue records for a single event in the PPV category." 
Telco provider Verizon also set a company PPV buy record with the fight, which had generated more than 250,000 purchases, according to Bob Elek, Verizon spokesman. He added that the provider experienced "minor" problems with order processing due to a 500% increase in fight buys on the day of the event compared to the number of buys generated prior to the May 2 bout.
Even reported illegal streaming of the fight from social media apps Periscope and Meerkat could stop the PPV momentum for Mayweather-Pacquiao.
While the fight generated what many observers called a lackluster 12-round majority decision win for Mayweather, talk about a potential rematch had begun to build throughout the week – especially when it was revealed that Pacquiao suffered a shoulder injury in training which may have hampered his performance in the ring.
But Mayweather all but squashed any talk of a fight sequel in an interview with Showtime that will air in its entirety tonight. After initially revealing that he would be open to a rematch, Mayweather told Showtime reporter Jim Gray that Pacquiao doesn't deserve a rematch. "Did I text Stephen A. Smith and say I will fight him again?  Yeah, but I change my mind," said Mayweather.  "At this particular time, no, because he's a sore loser and he's a coward… If you lost, accept the loss and say, 'Mayweather, you were the better fighter.'" 
The smarter way to stay on top of the multichannel video marketplace. Sign up below.
Thank you for signing up to Multichannel News. You will receive a verification email shortly.
There was a problem. Please refresh the page and try again.