Hollywood Speaks Out On Migrant Children Crisis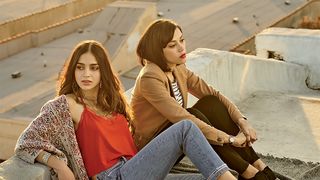 The Trump administration's controversial policy separating migrant children from their parents at the US border has elicited a strong response from two Hispanic-themed TV shows and a host of celebrities appalled by the action.
Producers and writers of Netflix's One Day At A Time remake and Starz's freshman series Vida spoke out Tuesday on social media condemning the images of thousands of children being housed in detention centers after being removed from their parents.
"One Day At A Time and Vida are teaming up to end family separation at the border," posted Gloria Calderon Kellett, executive producer of the Netflix comedy series, which was recently renewed for a third season. She also called for donations to directly support legal services for "detained separated parents and funding for their release."
[embed]https://twitter.com/everythingloria/status/1009220238016069634[/embed]
In addition, the @Vida Writers Twitter account confirmed that writers from both series are teaming up to raise money to end family separation.
[embed]https://twitter.com/VidaWriters/status/1009274239210274816[/embed]
Those tweets come on the heels of a flurry of social media posts in recent days by other celebrities and politicians from Anne Hathaway to Congressman John McCain condemning the migrant children crisis. Below is a sample of those social media posts:
Actress Anne Hathaway:
Actor/rapper Common:
[embed]https://twitter.com/common/status/1008733362566000640[/embed]
Talk show host Ellen DeGeneres:
[embed]https://twitter.com/TheEllenShow/status/1008789401260953601[/embed]
Actress Alyssa Milano:
[embed]https://twitter.com/Alyssa_Milano/status/1009262713850040320[/embed]
Congressman John McCain:
[embed]https://twitter.com/SenJohnMcCain/status/1008854185276735488[/embed]
The smarter way to stay on top of the multichannel video marketplace. Sign up below.
Thank you for signing up to Multichannel News. You will receive a verification email shortly.
There was a problem. Please refresh the page and try again.