Fox Sports Cornering the PPV Boxing Category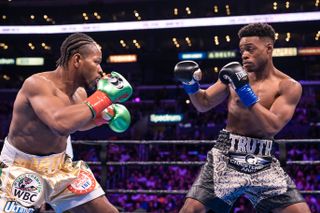 When Showtime and HBO teamed to distribute the Floyd Mayweather-Manny Pacquiao pay-per-view boxing event in 2015, it brought together the two champions of the PPV distribution business.
That fight went on to set the all-time record for pay-per-view boxing event buys while solidifying HBO and Showtime's position as the preeminent distributors of high-profile  boxing events.
Fast forward just four years to today, and the PPV boxing marketplace has changed significantly. Sports streaming services such as ESPN+ and DAZN have muscled their way into the business and have secured the rights to marquee fights like the Nov. 2 Canelo Alvarez-Sergey Kovalev fight and the Dec. 7 Anthony Joshua-Andy Ruiz Jr. bout -- both championship fights will stream live on the DAZN $20 monthly subscription service -- that a few years ago would have cost fight fans $60 or more to watch via PPV.
When fights do make it to the traditional PPV platform, such as the Nov. 23 Deontay Wilder-Luis Ortiz II heavyweight championship match, its Fox Sports -- and not Showtime or HBO -- more often than not delivering the event to boxing fans. In fact, Fox Sports has distributed four of the six major PPV boxing events in 2019, including Wilder-Ortiz. 
HBO last year hung up its PPV boxing gloves and completely stepped out of the TV boxing ring, due in part to the emergence of streaming competitors DAZN and ESPN+. Showtime -- which rang in 2019 with its January Manny Pacquiao-Adrien Broner PPV event -- is still a major player in the game, but recently negotiated and passed on the PPV rights to the Wilder-Ortiz rematch after the premium service distributed the March 2018 first bout between the fighters. 
"We did negotiate for the right to distribute the Wilder-Ortiz event via Showtime Pay-Per-View, but ultimately, we chose not to move forward ... the proposed deal terms didn't make sense for us," Showtime president of sports and entertainment programming Stephen Espinoza said. "Our strategy going forward remains unchanged, as we will continue to deliver the best boxing on TV for our subscribers and deliver, when the time is right, the sport's biggest pay-per-view events."
For Fox Sports, which distributed via PPV the Errol Spence-Mikey Garcia fight in March, the Manny Pacquiao-Keith Thurman fight in July and the Spence-Shawn Porter bout last month (pictured), the addition of Wilder-Ortiz is another piece in its growing portfolio of PPV sports content. 
"Fox Sports is thrilled to be working with the PBC and the most exciting heavyweight champion of the world, Deontay Wilder, for his next title defense against Luis Ortiz," Bill Wanger, Fox Sports executive vice president and head of programming & scheduling said."Deontay fought on Fox in 2016 and 2017 and had more than 2.5 million viewers watching each time. His popularity has exploded since then, and we're expecting this to be a can't-miss night of boxing."
If Wilder wins, industry sources say Fox Sports is expected to team with ESPN to distribute a Wilder-Tyson Fury rematch fight during first quarter 2020 in what could be the biggest PPV event since Showtime's 2017 Mayweather-Conor McGregor PPV fight. It would also usher in a new generation of boxing content providers working together to bring the biggest PPV fights to the category. 
"Much like when HBO was going against and working with Showtime, I think you have the same dynamic today, but it's been reinvented for a new set of platforms,"sports analyst Lee Berke said.
Weekly digest of streaming and OTT industry news
Thank you for signing up to Multichannel News. You will receive a verification email shortly.
There was a problem. Please refresh the page and try again.