Fixed Wireless Pay TV: Understanding the New DNA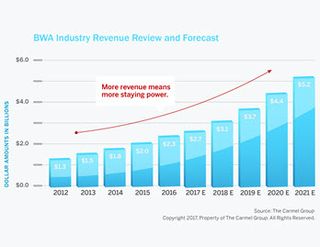 Pay TV operators and equipment vendors are facing remarkable new changes, as TV consumers increasingly become "cord cutters" and migrate away from cable and satellite providers toward cellular/mobile and fixed-wireless providers. Understanding the latter two pay TV competitors thus becomes ever more critical to managing today's cable and satellite TV landscapes.

Some very interesting data points have emerged within the last year by way of two 80-question surveys -- one of operators and one of vendors making up the fixed wireless or Broadband Wireless Access (BWA) sector.

The two surveys were conducted in late 2016 and well 2017 by my research firm, The Carmel Group, drawing from hundreds of members of the dominant U.S fixed wireless/BWA trade group the Wireless Internet Services Providers' Association (WISPA), which was among nearly 20 investors that sponsored the findings. (The investors' viewpoints had no effect on the surveys' outcome.)

The study found that 169 out of 555 WISPA member respondents answered the operator questions, whereas more than 20 of WISPA's 44 equipment vendors responded to their specific vendor survey questions. Both response rates are more than double the typical response rates for "external" and "independent" surveys done nationally by outside third parties.

Residential Consumer Broadband Comparative Economics
This section of the study compares five key Pay TV benchmarks, including capex per subscriber relative to BWA, speed, upgrade costs, broadband ARPU; and payback period.

Most telling perhaps is the payback period. In the case of cable, that timeframe is estimated at 38 months, or more than three years. Higher still is that of fiber, at 60 months or five years. Mobile/cellular payback is estimated to arrive after almost two years, while satellite and BWA best that metric by coming in at one year and 11.5 months, respectively.

However, for purposes of the relative analysis, the estimated average $250 million cost of launching a satellite was not included in the 12-month satellite return on investment (ROI) time frame. The surveys and the report confirm that the fixed wireless/BWA is the most cost-effective infrastructure for broadband and video today.

At the same time, typical and maximum delivery speeds are improving to the point where fixed wireless/BWA speeds are topping out at 100 Megabits per second (Mbps). Some can provide more than 1 Gigabit per second (Gbps) to fixed wireless/BWA end users.

Survey Questions
The surveys also asked about expectations; vendor equipment and improvements; licensed versus unlicensed and "lightly licensed" spectrum; monthly churn; ARPU; and revenue. Additional questions about ancillary services, challenges, opportunities, access and transmission points were also included.

One particularly interesting question was, "What Kinds of Licensed and Unlicensed Point-To-Point Frequencies Each Operator Is Using And What Percentage Each Represents?"

The results said 5.72-5.85 Gigahertz (AKA: U-NII-3) was used by nearly 40% of the respondents. Next, with 25%, was 5.25-5.72 Gigahertz (AKA: U-NII-2), and then, with 20% usage, was 5.15-5.25 Gigahertz (AKA: U-NII-1). A number of spectrums being considered that will be opened up in the years ahead, some point-to-point and some point-to-multipoint, in licensed, unlicensed and shared spectrums, might significantly affect this.

The Citizens Band Radio Spectrum (CBRS) deployment is one of these. Among "opportunities" in the BWA ecosystem, the surveys respondents cited "new spectrum developments" as the most promising.

Seven Growth Drivers
The two surveys also identified growth drivers that are expected to help propel the industry forward:

• As noted above, Fixed Wireless/BWA costs less.
• Spectrum trends favor fixed wireless/broadband.
• Video is fueling overall growth in demand for broadband.
• Standards-based technologies give BWA providers more choices.
• Capital availability and governmental support are growing,
• New entrants are validating the business model.
• And new market and service opportunities are creating new opportunities.

Subscriber and Revenue Growth
The study also highlights the remarkable growth that is expected in terms of both subscribers and revenue. In light of expected declines during the same timeframe among satellite and cable operators, the rather conservative estimates show that today's BWA industry is the fastest growing sector in all of broadband.

BWA Challenges
The BWA operators also identified several key challenges they foresee. These include: (1) competition from other broadband distributors; (2) yet-to-fully-develop access to financial funding markets; (3) inadequate and uneven governmental support in the areas of spectrum allocation and financial incentives; and (4) the BWA industry's relatively small size, lack of scale and consolidation, which in turn affects the BWA industry's ability to educate investors, legislators, regulators, media and the general public.

Other Survey Data
The full report is available free-of-charge at The Carmel Group's website by going to www.carmelgroup.com (click on the title, "2017 Broadband Wireless Access (BWA)/Fixed Wireless Report"). The actual sets of questions asked of both the Vendors and the Operators are also available for download (via the link titled "2017 BWA Survey").

An old adage has it, "Know Your Friends Well, Your Enemies Better." Whether today's cable and satellite operators list fixed wireless/BWA as a friend or foe, and whether today's pay TV and broadband providers combine different infrastructures to achieve their distribution ends, it is high time to learn more about BWA providers in the U.S. and around the world. Indeed, the Philippines reports a system of more than 1 million users, and significant deployments of fixed wireless technology are seen today in Russia, Brazil, Italy, Canada and Australia.

Jimmy Schaeffler is chairman and CSO of The Carmel Group, a streaming/broadband, broadcast and pay TV/video consultancy based in Carmel by the Sea, Calif.
The smarter way to stay on top of the multichannel video marketplace. Sign up below.
Jimmy Schaeffler is chairman and CSO of The Carmel Group, a nearly three-decades-old west coast-based telecom and entertainment consultancy founded in 1995.