Dream Mayweather-McGregor PPV Fight Moves Closer to Reality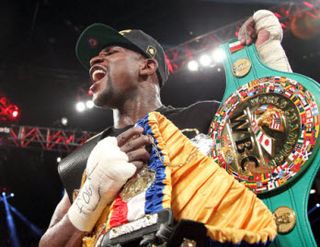 The curious proposed boxing match between retired boxing legend Floyd Mayweather and UFC mixed martial arts champion Conor McGregor seemingly moved a step closer to reality last week.

UFC president Dana White has given his blessing to the fight, announcing last Wednesday on TNT's Inside The NBA post-game show that the mixed martial arts outfit has reached an agreement with arguably the UFC's biggest star, allowing McGregor to step out of the UFC octagon and into the squared ring to face Mayweather (pictured) in a straight-up boxing match. White however, refused to predict that the fight will actually happen.
Mayweather, who last fought in 2015, has yet to sign on the dotted line to fight McGregor, but the undefeated fighter was quoted by ESPN.com over the weekend saying that if he were to return to the ring it would be against the UFC champion.
"If I do fight, there's a 90 percent chance it's against Conor McGregor," Mayweather said. "The only sort of numbers I worry about are pay-per-view numbers. I have to see what the next move is."
Indeed, while some hardcore boxing and UFC fans might bristle at the prospect of a Mayweather-McGregor "fight," there's no doubt that the event would create a lot of interest from fight fans as well as non-sports aficionados. That could potentially translate into a big pay-per-view payday for fight distributors. 
As the PPV boxing category's undisputed pound-for-pound champion, Mayweather is almost certain to draw close to 1 million buys or more every time he steps into the PPV ring, even with his prolonged absence from boxing. Mayweather's pursuit of his 50th straight win against McGregor – also a bona fide PPV draw in his own right – could post some knockout PPV numbers if the fight happens. Mayweather's 2015 fight against Manny Pacquiao holds the all-time PPV event record with more than 4 million PPV buys.
The smarter way to stay on top of the multichannel video marketplace. Sign up below.
Thank you for signing up to Multichannel News. You will receive a verification email shortly.
There was a problem. Please refresh the page and try again.