DAZN's Fight Delay Makes For Long Night, Increased Business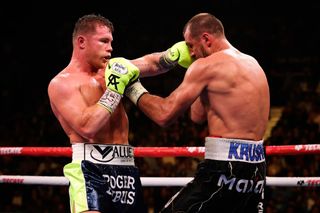 Sports streaming service DAZN said its decision to take a knee and delay the start of its Nov. 2 Canelo Alvarez-Sergey Kovalev boxing match until after the end of the competing UFC 244 event actually garnered additional signups for its event. 
DAZN officials said the sports streaming service teamed with the UFC to delay the start of DAZN's light heavyweight championship boxing event at Las Vegas' MGM Grand Garden Arena until after 1 a.m. on the East Coast. As a result of the delay, DAZN executive vice president North America Joseph Markowski said a "significant" number of fight fans signed up for the $20 per month DAZN service after watching the Nate Diaz-Jorge Masvidal UFC 244 main event bout, although he would not reveal specific numbers. 
"We worked directly with [UFC president Dana White] to stagger the fights in an effort to serve the largest possible number of those fans," said Markowski. "We agreed that the UFC fight would go first. Ultimately we saw a significant surge in subscription signups and audience growth between the end of the UFC fight and the beginning of Canelo's fight." 
While UFC fans watched Masvidal defeat Diaz after a controversial stoppage on cuts three rounds into their much-anticipated fight, DAZN subscribers were forced to endure a more than 90-minute delay between the co-feature — a first round knockout by emerging lightweight boxer Ryan Garcia — and the main event.
UFC president Dana White, speaking during the UFC 244 post-fight press conference, said that DAZN and the MGM called him Saturday night and requested to show the UFC 244 main event to boxing fans at the live venue who were waiting for the Alvarez-Kovalev fight to begin.
"We got it worked out … to the point where fans could see both fights," White said.
Alvarez — fighting in the third bout of an exclusive 11-fight deal with DAZN — eventually knocked out Kovalev in the 11th round to take the light heavyweight championship belt.
Several industry observers believe that DAZN's move relegated the sport of boxing to second class status compared to mixed-martial arts.
Markowski dismissed any criticism of its move, adding that DAZN would do it again if a similar situation occurred in the future.
"There are finite Saturday nights over the course of the year, and occasionally there will be clashes," Markowski said. "We'll always work on behalf of our existing and potential subscribers to maximize the audience for every DAZN broadcast."
The smarter way to stay on top of the multichannel video marketplace. Sign up below.
Thank you for signing up to Multichannel News. You will receive a verification email shortly.
There was a problem. Please refresh the page and try again.